Adobe no longer provides Flash Player downloads. Please use this new guide:
How to Install Adobe Flash Player to Open SWF Files on Windows 10 or 11
How to Download Adobe Flash Player ActiveX
SWF.max requires an ActiveX version of Adobe Flash Player in order to open .SWF files.
Please install the specific version mentioned below, regardless of the web browser and Windows version you have.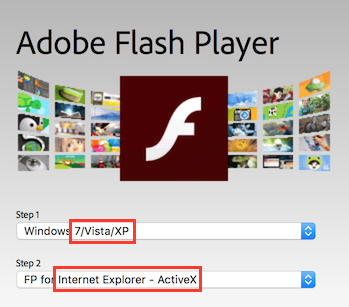 Visit this Adobe Flash Player download page
Select "Windows 7/Vista/XP" on Step 1, even if you're using Windows 8 or 10.
Select "Internet Explorer - ActiveX" on Step 2, even if you're using a different web browser.
Click "Download Now" and install Adobe Flash Player.
If you're running Windows 10 make sure you have the latest system updates installed.
---