How to Install Adobe Flash Player to Open SWF Files
Updated:
Flash player is no longer supported or updated by Adobe. They no longer provide Flash Player installation files. Since there are no further security updates, major web browsers no longer allow playing SWF files either.
But you can still use SWF.max Player to view Flash files and play Flash games! You will need to manually install Adobe Flash component. Instead of being installed system-wide, it will be installed locally just for SWF.max Player. This way your web browsing will remain secure and you can enjoy playing locally downloaded SWF files.
TL;DR: obtain a copy of Flash.ocx ActiveX component (version 32.0.0.371 or older) and place it in "C:\Program Files (x86)\SWF.max\Media\Binary" folder.
How to Install Flash Player on Windows 10 or Windows 11
These instructions will work for any Windows edition, including 32-bit, 64-bit and ARM.
Install SWF.max Player version 2.3 or newer.

Download flashplayer32_0r0_371_winax.exe installation file from the Internet Archive.

Right-click downloaded file and select "Properties", then "Compatibility" tab.

Select "Run this program in compatibility mode for: Windows 7" and click "OK" button.

Run "flashplayer32_0r0_371_winax.exe" program and install Flash Player.

Use File Explorer to navigate to this folder:

on 64-bit Windows: "C:\Windows\SysWOW64\Macromed\Flash"
on 32-bit Windows: "C:\Windows\System32\Macromed\Flash"

Copy "Flash32_32_0_0_371.ocx" file.

Paste the file into this folder:

on 64-bit Windows: "C:\Program Files (x86)\SWF.max\Media\Binary"
on 32-bit Windows: "C:\Program Files\SWF.max\Media\Binary"

Rename "Flash32_32_0_0_371.ocx" file to "Flash.ocx".

You no longer need system-wide installation of Flash so it's strongly advised to uninstall it!

Click Start menu > Settings > Apps.
Select "Adobe Flash Player 32 ActiveX".
Click "Uninstall".

Open "SWF.max Player" and enjoy watching your SWF files!
Troubleshooting
Possible solutions if you see this message: "The installation encountered errors":
Error: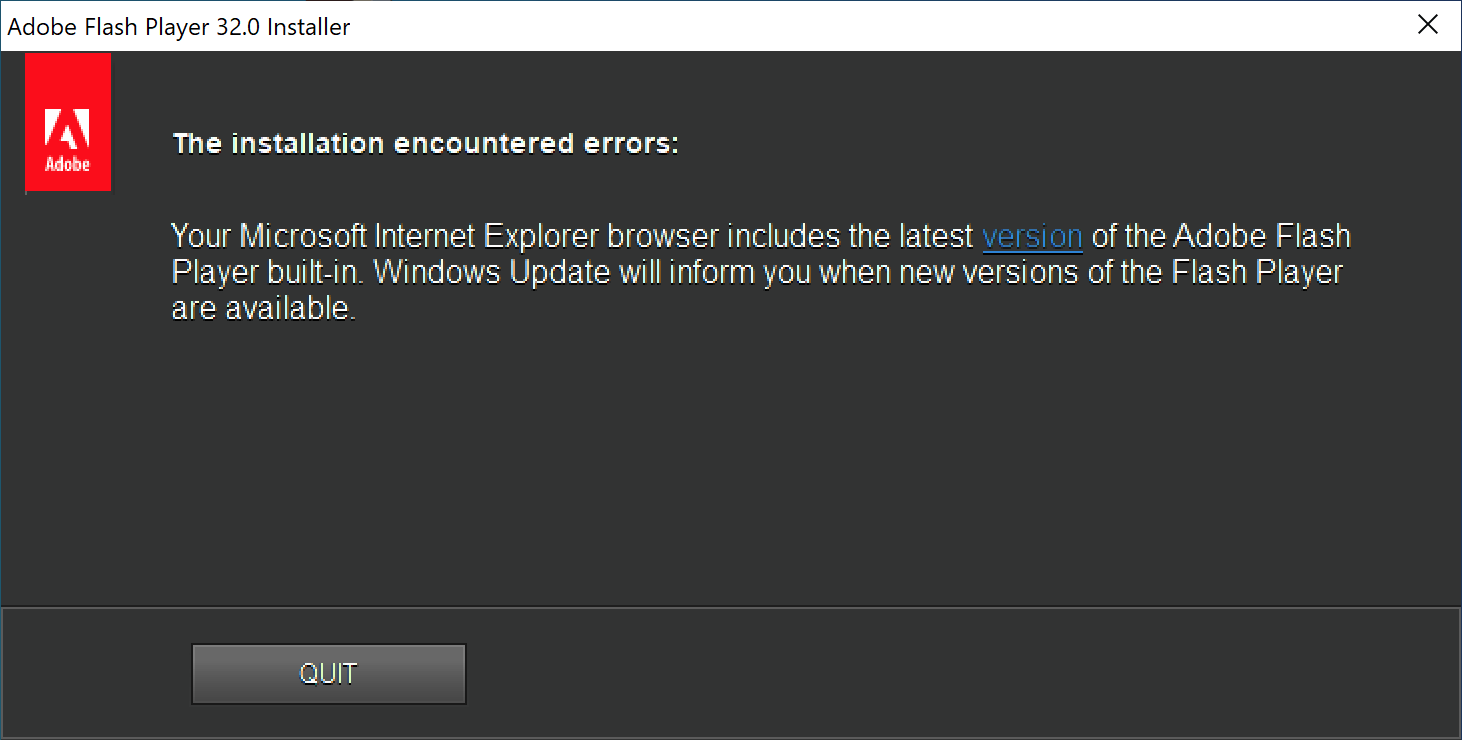 "Your Microsoft Internet Explorer browser includes the latest version of the Adobe Flash Player built-in. Windows Update will inform you when new versions of the Flash Player are available."
Solution: Make sure to follow the steps to set compatibility mode before running the installer.
Error:
"The version of Adobe® Flash® Player that you are trying to install is not the most current version. Please visit the Player Download Center to obtain the latest, most secure version."
Solution: You previously installed a newer (non-working) version of Flash. Follow these steps to solve this issue:
Press Windows key and type regedit
Open Registry Editor app from the search results.
Navigate to the following location in the Registry Editor app:

on 64-bit Windows: Computer\HKEY_LOCAL_MACHINE\SOFTWARE\WOW6432Node\ Macromedia\FlashPlayer\SafeVersions
on 32-bit Windows: Computer\HKEY_LOCAL_MACHINE\SOFTWARE\ Macromedia\FlashPlayer\SafeVersions

Right-click the SafeVersions key and select "Delete" menu item.
Open Flash Player Installer again.
---